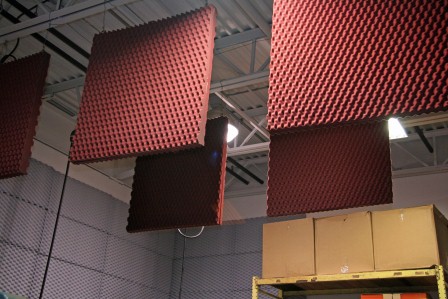 Egg crate foam is one of our most popular products.  From helping to make the world and workplace quieter to softening the journey for products in transit, egg crate foam from Tecnifoam offers a cost-effective solution.
Egg Crate Foam for Sound Proofing
Perhaps one of the best-known applications for Tecnifoam's egg crate foam is sound proofing. It provides more surface area for maximum sound absorption.  It's also engineered to improve the sound quality within the room, so not only does it absorb sound but it enhances your listening pleasure. It's great for studios, telemarketing areas, offices, practice rooms for music schools and much more.  In the home, you can use it in your multimedia or home theater space to enhance your enjoyment of movies, concerts and your favorite entertainment. It can also be used inside industrial spaces where people need to be protected from noisy equipment or machinery.
Shipping and Packaging Solutions
The convolutions of our egg crate foam also make it an exceptional packaging solution.  It offers great packaging and insulating qualities, and helps cushion many fragile items during shipping.  Like many of Tecnifoam's products, it may be custom fit for special projects, or you can speak with one of our foam specialist for any custom needs.
Contact us today for more information.