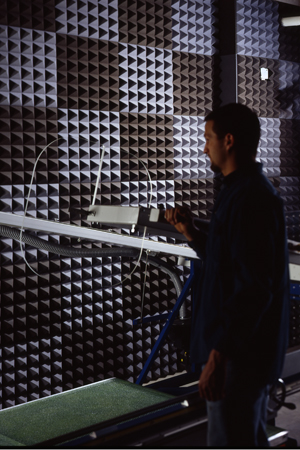 "Noise is among the most pervasive pollutants today. The problem with noise is not only that it is unwanted, but also that it negatively affects human health and well-being. Problems related to noise include hearing loss, stress, high blood pressure, sleep loss, distraction and lost productivity, and a general reduction in the quality of life." Source: Noise Pollution Clearinghouse.
In business and industrial settings, excessive noise can cause irreversible hearing loss, increased worker compensation claims, and higher insurance costs. Noise problems, however, are not confined to these areas. No matter where they occur, there are three approaches to controlling or eliminating noise:
1. Contain the noise at the source
2. Identify, isolate, and treat the paths noise will take
3. Reduce noise entering specific spaces
Regardless of the cause of the noise, effective noise management requires a solution that integrates all three approaches. Our experienced consultants and distributors can meet your total sound control needs by identifying hearing hazards and designing solutions that meet and or exceed OSHA regulations.
Our total sound control solutions are making the world a quieter place in a wide variety of environments, including:
Schools, auditoriums, gymnasiums, swimming pools, exercise rooms, recreation facilities
Compressor rooms, boiler/ventilation rooms, engine housing areas, equipment cabinets
Meeting halls, offices, conference rooms, dining areas, hallways, reception areas, churches
Video production facilities, recording and editing suites, broadcast studios, sound stages and studios
Factories and production facilities, warehouses, laboratories, research facilities
OEM noise control applications
Unique or complex applications