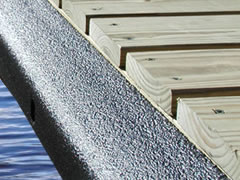 Boat dock bumpers protect valuable watercraft from expensive damage. Investing in the best foam dock bumpers prevents scratches and damage as watercraft bump into docks.  Tecnifoam makes a variety of foam dock bumpers that fit your budget and your needs.
Protect Boats from Damage Using Tecnifoam Dock Bumpers
Tecnifoam's boat dock bumpers use a variety of foam types to create durable dock bumpers that stand up to all that nature throws at them.  From salty marine environments to choppy lake storms, our UV-stable dock bumpers stand up to the rigors of the marine environment, providing protection for all watercraft for many years.
Dock Bumpers Save Boat Owners Money
Whether the boat owners using your dock have a small fishing boat or a custom-built yacht, Tecnifoam's dock bumpers will protect their watercraft from damage. As ships approach the dock, they can bash against pilings and posts, causing scratches in the fiberglass or paint that are ugly, expensive and time-consuming to fix. Even watercraft moored at a dock can bounce against the dock just from normal sea swells and the wake of passing ships; a little bounce can create one heck of a scratch.
That's where Tecnifoam's boat dock bumpers come in handy. They gently cushion boats using soft yet durable  marine foam. Made with Tecnifoam's outstanding attention to materials, details and fabrication, our boat dock bumpers withstand moisture, salt spray and more. They're functional, durable and beautiful.
Contact us today for an estimate or to discuss marine foam applications and dock bumpers.